OpenQuestion: IVR for Smart Call Routing
Powered by AI technology | Designed with Open Architecture | Connected with Generative AI

Streamline call routing in record time and enjoy universal platform integration with OpenQuestion.
A cloud-based plug-in for enterprise call routing and contact center transformation.
About OpenQuestion
OpenQuestion, powered by Teneo, is a cutting-edge AI IVR that enables contact center transformation with one simple module installation.
And no need to invest in infrastructure development or solution architecture...
"How Can I Help You Today?" 
Route customers to the right agent with a simple question: "How can I help you today?"

Reduce average handling time and provide a clear summary of relevant information to call agents.
What is OpenQuestion?
OpenQuestion revolutonizes customer experience and operational efficiency.

Designed for platform independence, connect to existing technology infrastructure no matter how your call center tech-stack is designed.

Utilizing advanced AI techniques, a patented Teneo Linguistic Modeling Language (TLML) and integrated conversational context
to evaluate and understand what customers need, evaluate sentences, recognize word patterns, and clearly identify caller needs.

This functionality interprets caller intent and swiftly routes customer calls to the most suitable agent, providing details of the request before the agent picks up.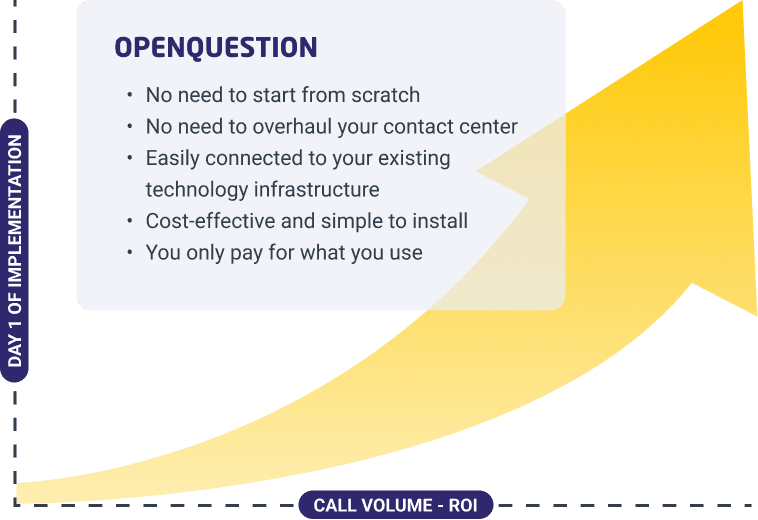 Cost-Effective &
Simple Installation
OpenQuestion is cost-effective and simple to install.

Our subscription model is based on a basic fixed cost and call volumes, ensuring you only pay for what you use.

Customize to suit your contact center's needs and preferences.
$39M Projected Return on Investment
Global Top 5 Tech Company Implements Conversational IVR.
30% reduction of misrouted calls
2 min reduction in Average Handling Time
Replaced failing keypad navigation
How OpenQuestion Works...
Traditional Interactive Voice Response
Traditional IVR relies on generalized number menus that fail to provide callers with the most relevant options for their inquiries.

Conventional systems cannot supply agents with specific information about a call before it is answered. These limitations result in prolonged call handling times and subpar customer experiences.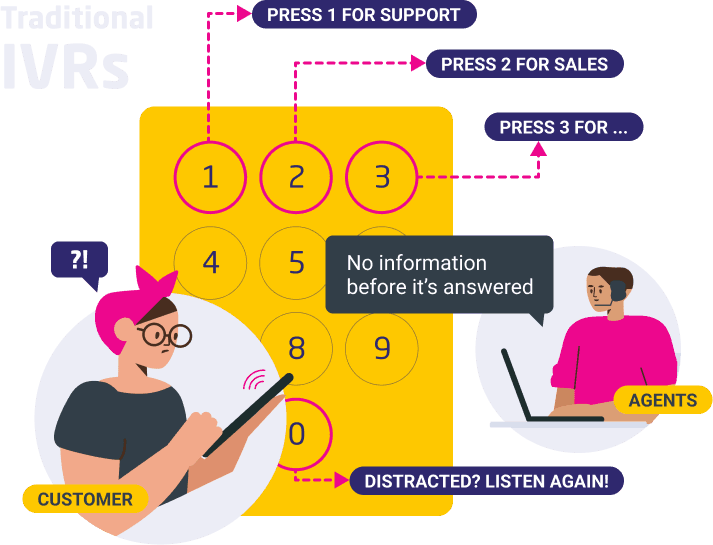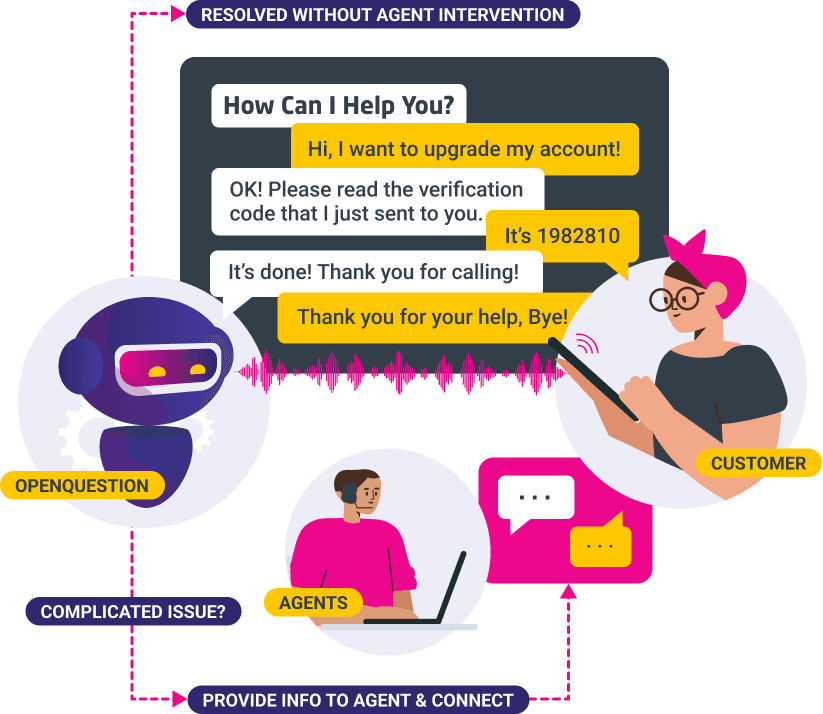 The OpenQuestion Way
OpenQuestion addresses IVR pain points using advanced technology to understand the nature of calls using your customer's language.

By asking the question "How can I help?", provide a range of intelligent automated handling options that includes resolving customer calls without agent intervention.

Learn how Swisscom increased 21% in correct transfers
Transforming contact centers...
Connected with the latest Azure & OpenAI generative AI tech including GPT / ChatGPT.

Add to Microsoft, Amazon, Genesys, Google to transform your call center into a more dynamic, manageable, and adaptable operation.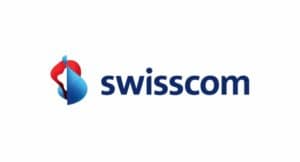 How Swisscom is Achieving Major Growth with Teneo
Read about Europe's largest Contact Center transformation project.
21% increased in correct transfers
+18 points increase in tNPS
100% call load in 3 weeks
9 million calls per year in 4 languages
Discover the Future of IVR with OpenQuestion
Take your customer support to the next level by leveraging OpenQuestion in your contact center solution. Get a personalized demo and see how our Conversational IVR solution can transform your business.
Book a Demo
Take your customer support to the next level and schedule a demo with a product expert.