Telefónica Implements OpenQuestion to Support Industry-Leading Contact Center Customer Experience
Telefónica Germany has set a new standard for success in the telecommunications industry with the launch of our OpenQuestion solution that has radically improved customer engagement via omnichannel user support.
Real-Time Answers
Available 24/7/365 to ensure Telefónica customers could access help at all hours.
Personalized Experience
Able to authenticate individual customers and access their account to customize the answers
Omnichannel Interaction
Allows customers to begin their conversation on one channel and continue in another seamlessly
The Results
Gaining Back Customers' Trust and Loyalty
+6%
Increase in IVR resolution rate
+900K
Monthly calls and +200k monthly text requests handled
+200K
Monthly text request handled
+400
Generic use cases created
+20
Personalized use cases created
Telefónica has continuously developed and launched new capabilities to improve its CX through partnering with industry-leading businesses, such as Teneo.ai, to help achieve its long-term vision.

OpenQuestion is hosted on Teneo and handles almost one million voice-based requests per month while supporting 200,000 customer requests with SMS and WhatsApp responses.

Telefónica has now delivered upon its full vision first set out in 2018.

As an industry-leader, Telefónica Germany now represents one of the most successful examples of successful implementation and deployment in Europe as Contact Center operations have seen a reduction in costs, customer satisfaction is higher than ever, and
efficiencies continue to be made.

Not only does this provide a significantly greater advantage in helping to retain customers for a greater lifecycle, it also supports the acquisition of new customers and the sale of new products.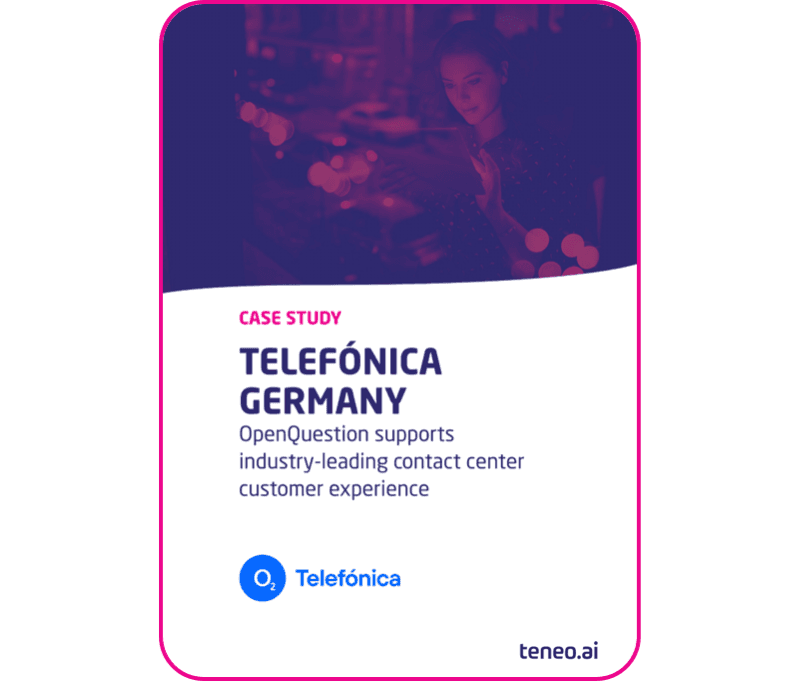 Download this Case Study
Leave us your information below to receive the PDF version of this success story and we will send it to you shortly by email.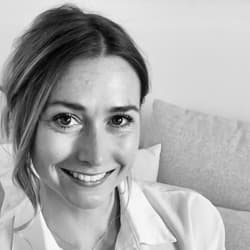 A project like this doesn't just come to life from nothing. There needs to be a vision from product marketing and to senior management because you need to get buy in from multiple stakeholders. Innovation is not free, so you need to invest in technology and in your team in order to execute on your vision and plan for the future.
Sarah Rojewski
Manager of A.I. and Automation,
Telefónica Germany
The Challenge
In 2017-2018, Telefónica Germany was accused of delivering an
extremely low level of customer service via its Contact Centers. The issue was reported in the national press, with the problem described as a 'catastrophe' in the media.
Customers were unable to connect to customer services over the phone in order to resolve key issues and there was a distinctive lack of solution-based information available via other channels such as email, text and social media. The company had also implemented a system whereby customers were forced to take a specific online route to find support, which had a detrimental impact on the company being able to get feedback and improve customer engagement.

In response to the customer experience crisis, Telefónica embarked on a new path with the launch of a project that was intended to transform the fortunes of the company. A universal and centralized solution was envisioned to radically improve customer engagement and support with an omnichannel solution.
The Solution
A leading Conversational AI platform for a leading telecommunications business
Telefónica's fully operational solution operates across all channels to realize a consistent omnichannel experience, increase customer satisfaction and create the potential of personalized sales opportunities.

The project was first planned in 2018, with four key pillars established in order to create and guide the building process. With the support of Teneo.ai and its SaaS solution, OpenQuestion, Telefónica Germany owns one of the most complex solutions seen
within the telecommunications industry.

This has been achieved as a result of long-term strategic planning and the depth of features and functions made available through Teneo.ai.

Find out how this was achieved and what the key pillars helped to deliver success by downloading the full case study.
The Power of OpenQuestion
We help high-growth companies like Telefónica, HelloFresh and Swisscom find new opportunities with our technology.

Interested to learn what we can do for your business?