Global Healthcare Leader
Transforms IVR Call Center with OpenQuestion
A leading global healthcare company launched OpenQuestion and immediately transformed the performance of its call center.

+$6M Annual Savings | +1.05M Annual Calls Handled | +36,000 Agent Hours Saved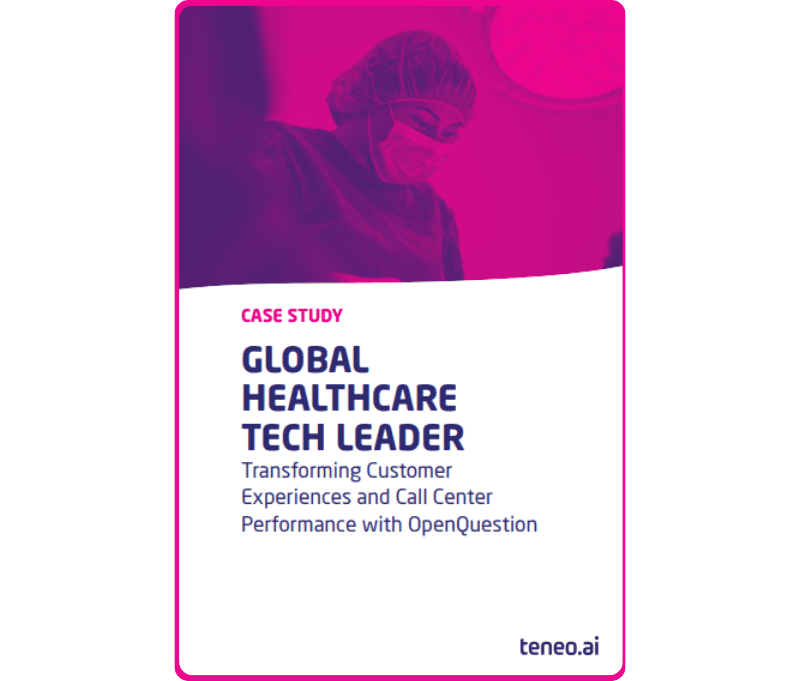 Access IVR Case Study
Leave us your information below to receive the PDF version of this IVR success story and we will send it to you shortly by email.
Robust & Scalable
The client needed an IVR solution that could scale to support 10 business units and 63 call centers, employing over 2000 call agents in total.
Impacting IVR KPIs
From increasing call handling savings and customer satisfaction to decreasing abandonment rate and misrouted calls, the customer required a single solution that impacted multiple KPI's.
Employee Experience
The client was eager to improve the performance and experience of its call agents and required a solution that saved them time and made their working experience significantly better.
Key Highlights
Gaining back customers' trust and loyalty with an IVR solution
-20%
Call Handling Cost Reduction
As a result of placing its customers and patients at the heart of its focus and having implemented Teneo and OpenQuestion across its Cardiovascular Patient Technical Services Group, the customer has transformed the performance of its operations and increased its level of service for people looking for urgent help and support.

The organization has ambitions plans to continue with its innovative approach and aims to achieve even greater results for its customers and patients.

Results for 2022
Growth in customer demand from 2021: +45%
Interactions moved from agent handling to self-service: 90,000
Agent hours saved: +36,000
Annual costs saved: $6M
Per contact / call cost reduction: 19%
Increase in customer satisfaction: 2%
 
Results for 2023
Voice IVA sessions handled (June 23): 1.05M
Customer satisfaction: +6%
Misrouted calls: -5%
Wait times reduction: -37%
Abandonment Rate: -7.9%
Service Level increased: +18%
Phone Calls Routed to Correct Agents: +42%
Increase in Deflection Rate: +25%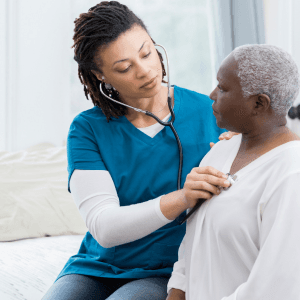 "There was a clear requirement to improve the performance of the Cardiovascular contact centers and to provide a greater level of service for people calling for help. We wanted to take an approach that was both innovative yet simple to manage, while driving improvements for patients, clinicians as well as our internal agents."

"With Teneo and OpenQuestion, we were able to achieve better results than we could have imagined, and we're thrilled with the performance of the IVR solution."

"Our team has been able to design and develop the solutions that were needed, and we have not been let down at any point. The success in the Cardiovascular department has led to other contact centers  implementing the same solution for their needs."
Service Delivery Manager Virtual Assistant as a Service
Global Healthcare Tech Company
The Challenge
The customer is the leading global healthcare technology company that attacks the most challenging health problems facing modern medicine.

The company uses technologies and innovative therapies to treat +70 health conditions and includes cardiac devices, surgical robotics, insulin pumps, surgical tools, patient monitoring systems, and more.
The organization supports 10 business units with 63 call centers that employs over 2000 call agents, with each department supporting specialized types of enquiries depending on patients' medical issues and the kind of medical device they need information on.

The departments are also the point of contact for medical professionals who want to make new purchases or find information on specific products.

However, the performance and handling of calls was not at an optimal level.
In 2021:
Each call was costing the organization $25.96 to handle
9% of calls were routed to the wrong agent
The average waiting time in a queue was 2.37 minutes
The customer satisfaction score was 4.0 (the minimum acceptable)
14.7% of calls were abandoned
Many of these problems were caused by an old keypad IVR system that failed to provide a suitable level of care to customers and medical patients.

Furthermore, their staff were negatively affected and overwhelmed with the impact of misrouting and basic troubleshooting taking up vast amounts of their time. Critically, these issues were being recorded in a unit focused on providing information on cardiovascular products, where patients needed information on the performance of various products such as pacemakers and defibrillators.

The speed at which calls were answered and routed was of critical importance but due to the poor performance of the legacy IVR system, the company was not able to provide adequate care.
The IVR Solution
"Powered by its diverse knowledge, insatiable curiosity, and desire to help all those who need it, the company delivers innovative technologies that transform the lives of people every second, every hour, every day."

2022 – Building the Foundations of IVR Transformation

The organization implemented a Teneo-based OpenQuestion IVR pilot to manage call routing to sales agents and clinicians, connecting the system using Five9 to also include automated call backs and SMS alerts.

A shared service center was also set up to manage calls in a more efficient manner.
 
2023 – Driving Strategic Value

Following the successful pilot, the Teneo solution was expanded to handle calls from all patients and clinicians calling the customer.

A range of new functionality was added to the Voice IVR to include advanced troubleshooting for patients calling for help and information on alarms that their medical device monitors provided.

For example, if a pacemaker monitor sounded an alarm and the patient called for help to understand the problem, Teneo was able to provide instructions based on the vocal input recorded from the patient.

Alternatively, the system could send a text containing  a link to a video or instructions on how to clear the alarm.
 
2024 – Drive Optimization

The customer team has already planned their strategy for 2024, with plans for even greater troubleshooting capabilities added to both voice and text Teneo solutions.

Plans to implement a custom Large Language Model (LLM) to assist with analytics and reviews of patient transcripts are underway with the possibility of also using an LLM system to monitor patient data and analyze trends.
The Power of OpenQuestion
We help high-growth companies like Telefónica, HelloFresh and Swisscom find new opportunities with our technology.

Interested to learn what we can do for your business?