Swisscom Achieves Major Growth With OpenQuestion
In collaboration with Teneo.ai, Swisscom has built and developed a range of voice-based solutions, services and products to expand the company's reach across the DACH region. OpenQuestion is at the forefront of Swisscom's contact center and is the first point of contact a customer has with the business across four languages.
Multilingual & Scalable
The Conversational solution covers four languages: German, Italian, French and English
Flexible Product
Swisscom needed a product that could seamlessly work and integrate with its pre-existing systems
No Data? No Problem!
Swisscom deployed the solution easily, with little or no data due to Teneo's Lexical Resources (TLRs).
The Results
New Products,
New Services,
New Opportunities
to Scale
18+
Transactional Net Promoter Score (NPS) increase
+9M
Calls per year supported by OpenQuestion
4
Solution covers four languages: German, Italian, French and English
Over the past two years, Swisscom has rapidly expanded and scaled
OpenQuestion, a solution built on Teneo, in order to create brand new
products and services while constantly increasing the complexity of
its solutions. This has created one of the best customer experiences within the telecommunication industry, as the combination of machine and human support provides Swisscom customers with an outstanding level of engagement over the phone.

The services guarantee natural and continuous conversation that go
beyond straightforward Q&As, but efficiently resolve simple customer
requests through easy self-service, while ensuring the availability of
expert staff who can focus on solving complex problems.

For the telecommunications sector and for businesses that run
contact center operations, Swisscom represents an outstanding
example of how to successfully strategize and implement
OpenQuestion to achieve core business goals. An increase of 18 NPS
points represents an outstanding achievement for the Swisscom
team and customer satisfaction metrics continue to improve across
the organization.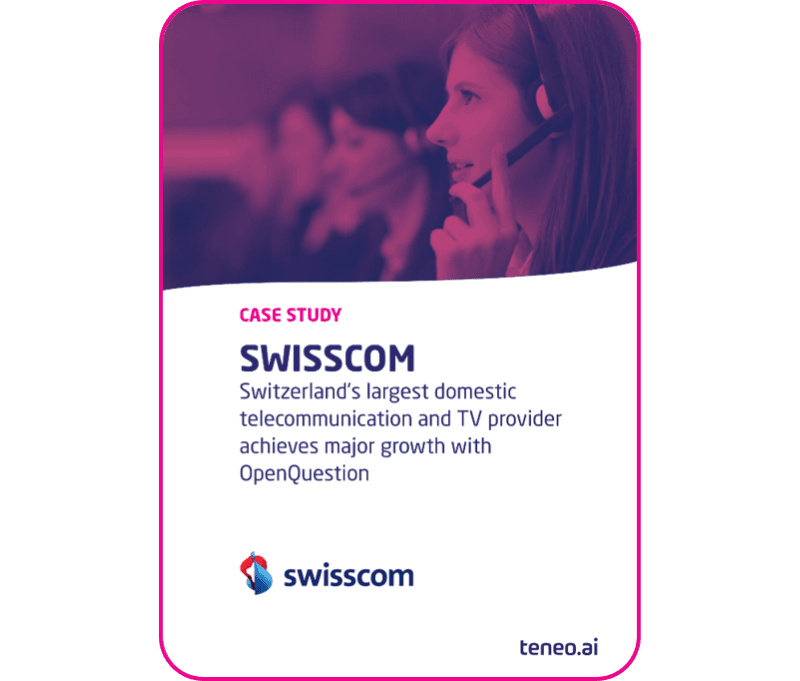 Download this Case Study
Leave us your information below to receive the PDF version of this success story and we will send it to you shortly by email.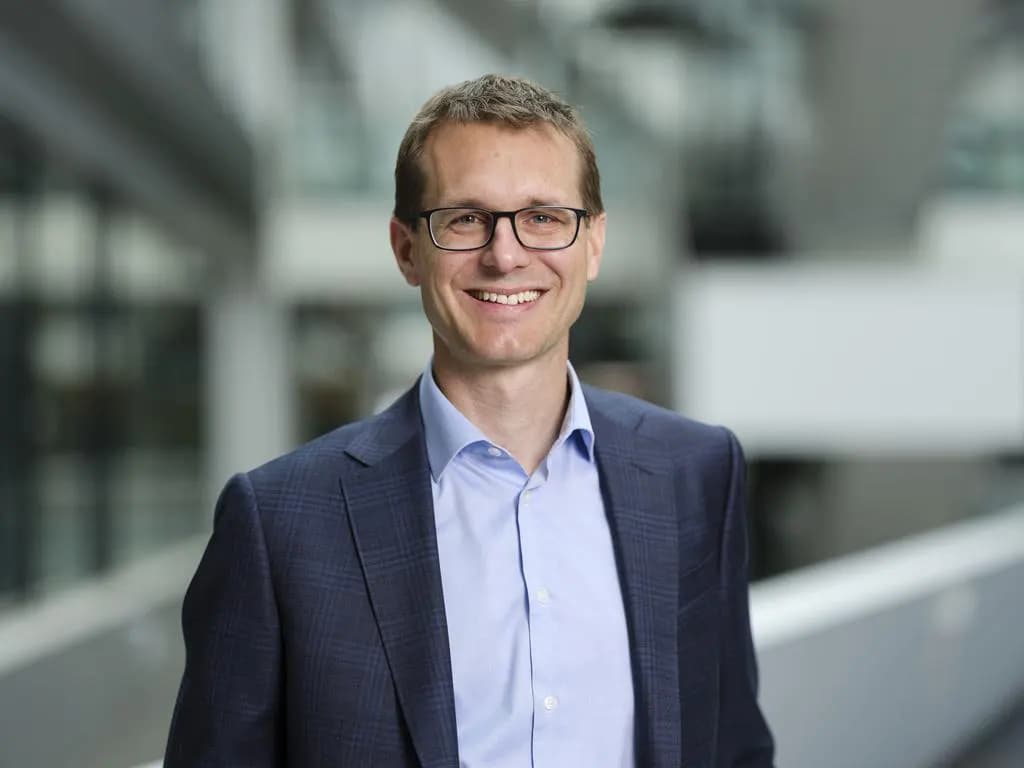 Our customer enquiry hotline will be considerably more productive thanks to human spoken interaction with our systems. Our voice-controlled hotline system improves the customer experience by assigning enquires quickly and accurately, maximizing the valuable resources of our hotline agents.
Christoph Aeschlimann
CEO, Swisscom
The Challenge
Swisscom is one of the most innovative and sustainable telecommunication organizations based in Switzerland. Its entire
network has operated with 100% renewable energy from water, wind and sun for over ten years. As of Q1 2022, the company employed over 19,000 people across Europe and had generated sales of CHF 2,768 million.
In 2020, Swisscom received over 10 million customer requests per year. The volume of calls to the company's contact center placed a significant amount of stress and required major resources to manage and maintain customer satisfaction.

Long wait times and unresolved issues were impacting Swisscom customers, which was having a negative influence on customer satisfaction rates and customer churn. Furthermore, as enterprise level telecommunication businesses have demonstrated, customer service is one of the most important selling points to attract new customers. Swisscom wanted to make a clear statement that it was a leader in this area, however, it did not have a clear path to achieving this goal.

Switzerland is a multilingual country with a heavy international presence. Therefore, any solution needed to be delivered in four languages: English, French, Italian and German. To handle the vast number of customer requests that are carried out over multiple
channels, Swisscom looked for omnichannel and integrated solutions.

With contact center operations struggling to handle increasing volumes of customer requests, Swisscom was facing a challenge to deliver the levels of customer satisfaction it wanted.

As an industry innovator, Swisscom was determined to lead the way and reshape customer interactions within the sector with a strong focus on CX.
The Solution
A Leading Product for a Leading Telecommunications Business
To deliver conversational solutions 24/7 that were easy to deploy, integrable with other components and adaptable to Switzerland's multilingual environment, Swisscom decided to work with Teneo.ai, a brand from Artificial Solutions. The industry-leading SaaS product offered the functionality, ability to scale, language integrations and collaborative tools that the business required to pursue its ambitions.

Among the features that most stood out was Teneo's multi-language support, which addressed one of the challenges the Swiss company was facing. Swisscom deployed the solution easily, with little or no data due to Teneo's Lexical Resources (TLRs). Furthermore, Swisscom was able to integrate its solution with other components thanks to the open accessibility of Teneo and the simplicity of connecting other technologies via API integrations and scripting capabilities. For Swisscom, this was a critical part of the decision to adopt Teneo as the platform to build OpenQuestion.
The Power of OpenQuestion
We help high-growth companies like Telefónica, HelloFresh and Swisscom find new opportunities with our technology.

Interested to learn what we can do for your business?