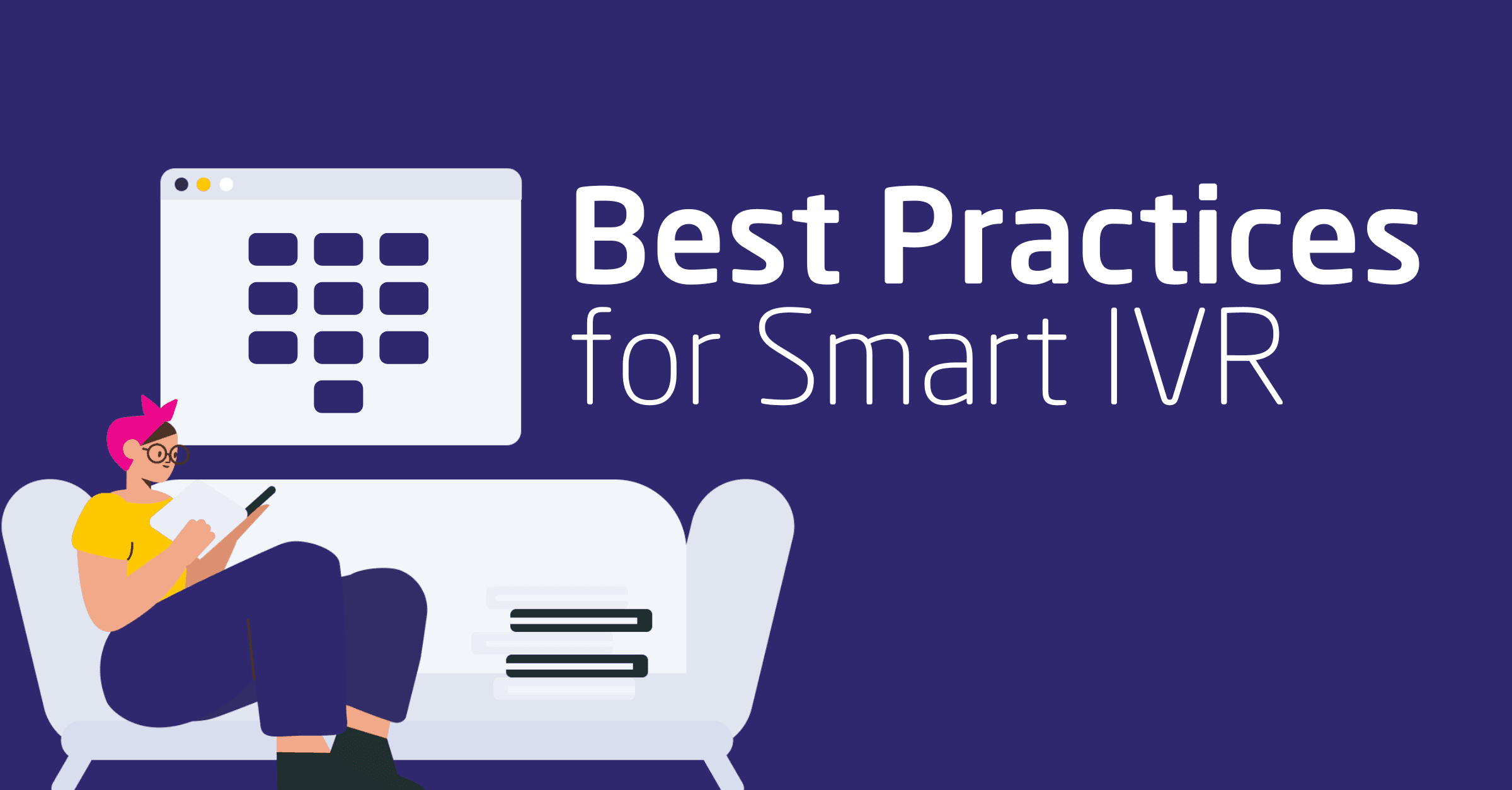 The COVID-19 pandemic brought many challenges, many of which remain now that the pandemic has passed. Different industries had to adjust their businesses and shift customer interactions to the virtual online space. Many companies that were doubtful about adopting new approaches and leveraging automation were urged to explore different strategies to ensure and sustain excellent customer care and voice bots emerged as one of the leading technologies to support contact centers, with Intelligent IVR recording significant new traction.
This article is here to give you:
• Good examples of Intelligent IVRs
• Best practices on how to implement an Intelligent IVR system
• Steps to take into consideration
• Necessary clues to replace your old IVR
Voice is not enough – multimodal approach is the key
The IVR, or Interactive Voice Response, has been considered the father of VUI (Voice User Interface), starting the great era of voice interaction in the early 2000s.
Technology has become a standard for contact centers. Most of us, however, have unpleasant associations with IVRs. "Press nine if you are interested in orders. Press two if you want to cancel your order."
Many of us have been stuck in the loop of long key pressing. Not to mention the frustration of hitting the wrong number. If we were lucky enough and the IVR was well designed, we were given an option to start over.
The keypress assignment was not the original idea of IVR. In fact, the first IVRs were designed to understand voice commands, but the interaction shifted towards buttons due to the early stage of speech recognition technologies. Since then, we have witnessed a massive improvement in speech recognition technologies.
It makes perfect sense that the contact centers are cycling back to the original purpose of IVRs and pushing the borders even further with a multimodal approach, taking advantage of the best qualities that voice, touch, and text interactions offer.
Use and design of Intelligent Routing Systems for IVR
What is the best use case for voice assistants? The idea of choosing the correct use case to automate fully has to be decided carefully. However, the contact center you are designing a voice solution does not need to start with full automation of your customer care processes. Helping your customers connect to the right agent as quickly as possible is a perfect start.
Businesses have started to implement Intelligent Routing into their contact centers. When designed appropriately, intelligent routing can cut down the time customers spend in the "virtual lobbies," the overall average handling time, increase overall customer satisfaction and help with the increase of the NPS (Net Promoter Score).
As Conversational Designers, we always need to ensure that we won't recreate the unpleasant associations with Smart IVRs. It is always good to avoid any loops your customers may be stuck in.
How you design your voice solution matters. Train your voice bot to understand that the customer wants to be transferred to a human agent and avoid too much stubbornness. Think about different users. Voice technologies are yet at the beginning of the path towards inclusiveness. Adding a rule that will hand over the call to a human agent can be appreciated not only by customers with speech difficulties
Remember, the goal is to help route the customer to the right human agent promptly.
Your contact center might be quite robust, therefore building an intelligent routing system can seem to be a challenge. However, the existing data of interactions with your customers are an excellent resource for you. Take your time to analyze any recordings and e-mails to help you design your flows and enrich your training and testing datasets.
The leverage of customers' data can increase your NPS
Your prior interactions with customers have even more advantages. Proper use of the gathered information supports the happy path of the interaction between the customer and the digital assistant. Moreover, it helps achieve a seamless handover.
Make your assistant smarter, use personalized interactions such as addressed greetings, and apply a set of rules to predict why the customer is calling. Use the available data from your CRMs, trace behavioral anomalies and apply them to your conversational solutions.
Usages of predictive rules and models can be seen across different industries. An example from retail can be a customer calling the day after not receiving his package. There is a considerable probability that his call is regarding the unfulfilled delivery. The voice bot can lead the conversation and ask right away if the customer's call is about his undelivered package.
In the Telco industry, predictions can be applied on irregular amounts on the customer's invoice, reoccurring calls during widespread service outages, and even to support the upsell of your product. The digital assistant does not need to handle the sale itself. Instead, it can cleverly find out the customer's interest and redirect the call to your most successful sales agent.
Repetitive IVR tasks can be fully automated
There are several use-cases that the digital assistant can fully automate. For example, transport companies and travel agencies use fully automated digital assistants to cancel or change tickets and provide information about the travel conditions and terms.
In retail, we can frequently encounter automated bot handling changes in delivery details, extensions of package storage duration, canceling of any orders. Moreover, several voice solutions are trained to schedule meetings or medical examinations. The Telecommunication industry holds several successful use cases, from small ones such as resetting PINs or blocking SIM cards to more complex solutions – a digital assistant guiding a customer to troubleshoot their router.
Many of your users will appreciate the 24/7 availability of your voice assistant. Working hours should not be an obstacle to blocking your credit card.
The general hesitations about leaving the voice bot to handle the conversation without human intervention come from a reasonable fear of voice technologies' limits and previous poor experience. Correctly chosen use-case and multimodal approach, combined with omnichannel strategy, are the best rules to follow.
When analyzing your customers' input data, look for the common variables. Unlike chatbots, voice bots have difficulties handling names, e-mails, and numbers with several digits. Several speech-to-text providers such as Google or Microsoft enable you to add data into the speech training models to slightly adjust speech recognition to your needs.
Despite this great option, you might still think of several workarounds for your solution. There is so much you as a conversational designer and your team can do to provide the best user experience and minimize bumps in the road with voice solutions.
Add some code into your flows and pull any valuable data from your CRMs. Don't make your customers repeat information you already have. Details like names, addresses, or e-mails are usually linked to your customer's account. Shorten the identification process and use the phone number to identify your customer at the beginning of your call.
If confirmations of these details are necessary, design your voice assistant to be proactive in the conversation, not passive. For example, a question like "Am I speaking to Mr. Henderson?" narrows the likelihood of incomprehension and leads the customer to a more straightforward answer.
In comparison, the question "Can you tell me your name?" not only risks the wrong transcription but can also seem unprofessional when asking a client your company bills each month for your provided service.
Gaining the skill of Pronunciation Lexicon and Speech Synthesis Markup Language or adding a member to your team with this particular skill set is a great advantage and can ameliorate the pronunciation of uncommon words and names.
If your customer is calling from an unknown number, make sure to store the data for any further interactions. Know your customers and help your digital assistant to know your customers. Assure your solution is GDPR compliant. Ask for consent, and handle your customer's private data carefully.
You may want to automate processes that require a higher level of security. For today's article, let's omit the voice biometrics option, which would need an article itself, and look at more standard practices, such as PINs and security codes.
When asking for any security code, think of the minimal amount of digits your digital assistant needs to identify your user. A multimodal approach can be handy if the number is longer than four digits. Ask your user to type the number on their phone. Therefore, your voice bot won't struggle with the comprehension of the number. Moreover, the customer can easily see, check, and change their number.
In some cases, you might need to get precise details from your customer. Be authentic, meet the client halfway, and let them type the specific information via their preferred channel. Is your customer's preferred channel Whatsapp? Be proactive and send a reminder message immediately after the call.
Creating a successful digital assistant requires several building blocks, such as perfect conversational flows with clever and engaging copywriting and the application of predictive rules or models. However, once done, it can result in a powerful solution that can leverage the business potential and improve the customers' level of satisfaction reflected on your NPS.