Circle K
In collaboration with Teneo.ai, a brand from Artificial Solutions, Circle K built and developed a highly complex and dynamic conversational solution that was capable of answering a diverse range of customer requests and questions in multiple languages. The company chose Teneo as it allows for unlimited scalability and flexibility to retail businesses looking to improve customer satisfaction, drive growth, reduce costs and increase sales.
Multilingual & Scalable
The Teneo-based conversational solution covers 3 languages: Swedish, Norwegian and Danish
Flexible Product
Circle K needed a conversational product that could directly integrate with MS teams allowing for internal use
Reuse What You Build
Circle K is expanding the use of Teneo into new departments across a variety of business functions
The Results
Teneo Is Built to Allow Developers and Business Users to Collaborate in a Frictionless and Productive Manner.
57%
Increase in the volume of voice requests handled by the solution
95%
Increase of project speed delivery compared to other Circle K tech projects
3
Solution covers three languages: Swedish, Norwegian and Danish
Thanks to the SaaS-based model, Teneo automatically performs all of the heavy technical lifting, which typically makes other conversational development products difficult to use. Teneo's easy to use graphical interface, with drag and drop style features, allowed for the rapid deployment of 'Kay' as it was straightforward for the Circle K team to understand and manage dialogue flows.

When dealing with requests, Teneo is able assimilate all the information provided by a customer over the phone or via text chat, and consider other factors such as context, user preferences and back-end data sources to deliver the right response.

'Kay' also caters for escalations to human agents. In cases where a query is outside of its expertise, Teneo will seamlessly hand the conversation over to a live agent, complete with the transcript to provide pivotal visibility into the user journey up to the point of handover. ROI increased through language expansion.

As Kay expands into new regions and new languages are introduced, Circle K expect there to be challenges because each region has different processes that need to be accommodated. However, one of the reasons Circle K chose to work with Teneo was because of its master/local approach to languages that allows for a conversational AI application to be built in one language and easily ported to another. Teneo typically allows for 80% of the original build to be used.

After a two-year period of growth, improvement and development, Circle K now represents one of the leaders in the Conversational AI space within the retail sector. Major improvements in customer satisfaction, sales and cost reductions have made an impact on the growth and expansion of the business, with plans underway to enter new global markets in 2022 and beyond.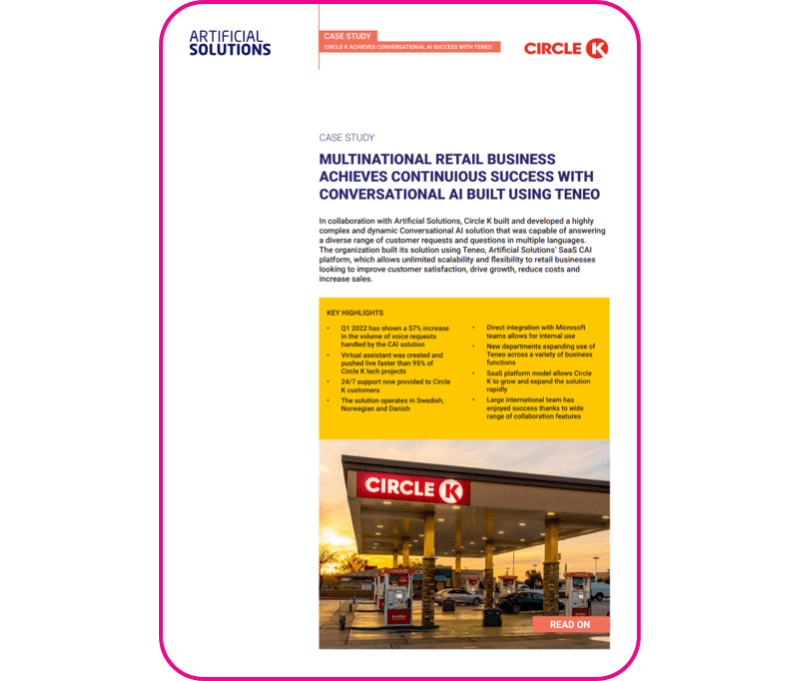 Download this Case Study
Leave us your information below to receive the PDF version of this success story and we will send it to you shortly by email.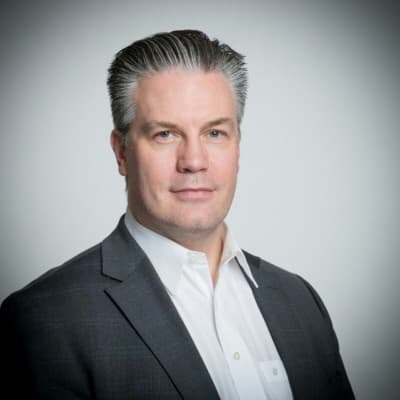 We chose to work with Teneo.ai because they could demonstrate within very short timescales the depth and power of Teneo's capabilities for a Global company, that far exceeded our experience of other conversational development products.
Michael Lindbäck
Senior Director CCC & Business Enablement,
Circle K
The Challenge
In 2020, Circle K was exploring ways to reduce call volumes into its B2B and B2C support teams to enable them to focus on more complex tasks. Customer service was crucial to the long-term success of the business and Circle K wanted to develop an intelligent, conversational solution that was capable of answering a diverse number of questions in multiple languages.
The company undertook an extensive review process, analyzing a range of providers of conversational solutions, assessing the best vendor to support the ambitions of the business. It was critical that the platform the business chose offered an industry-leading level of technology and complexity for a team of internal conversational designers and Product Managers to invest in.

Circle K's conversational strategy is managed by a cross-function team, which means that business users are as much involved as tech experts. As part of the selection process Circle K held a working group to allow business users to try Teneo and see for themselves if it was something they could use, or purely an IT project.

Circle K concluded that Teneo easily met Circle K's main criteria of a conversational product that would provide corporate consistency across content, languages and technology.
The Solution
A Leading Conversational Product for a Leading Retail Business
In a matter of months, Circle K had built and launched its conversational solution and named 'Kay'. The solution was launched across the company's Scandinavian digital properties and was able to communicate with customers via voice and text chat in Swedish, Norwegian and Danish effortlessly.

'Kay' was able to support customers in a variety of ways, handling both informational and transactional processing over a vast number of intents. For example, questions from Swedish customers frequently relate to car and trailer rental, whereas questions from Norwegian customers are often asked about the company's main loyalty driver, a yearly coffee cup campaign.
The Power of OpenQuestion
We help high-growth companies like Telefónica, HelloFresh and Swisscom find new opportunities with our technology.

Interested to learn what we can do for your business?