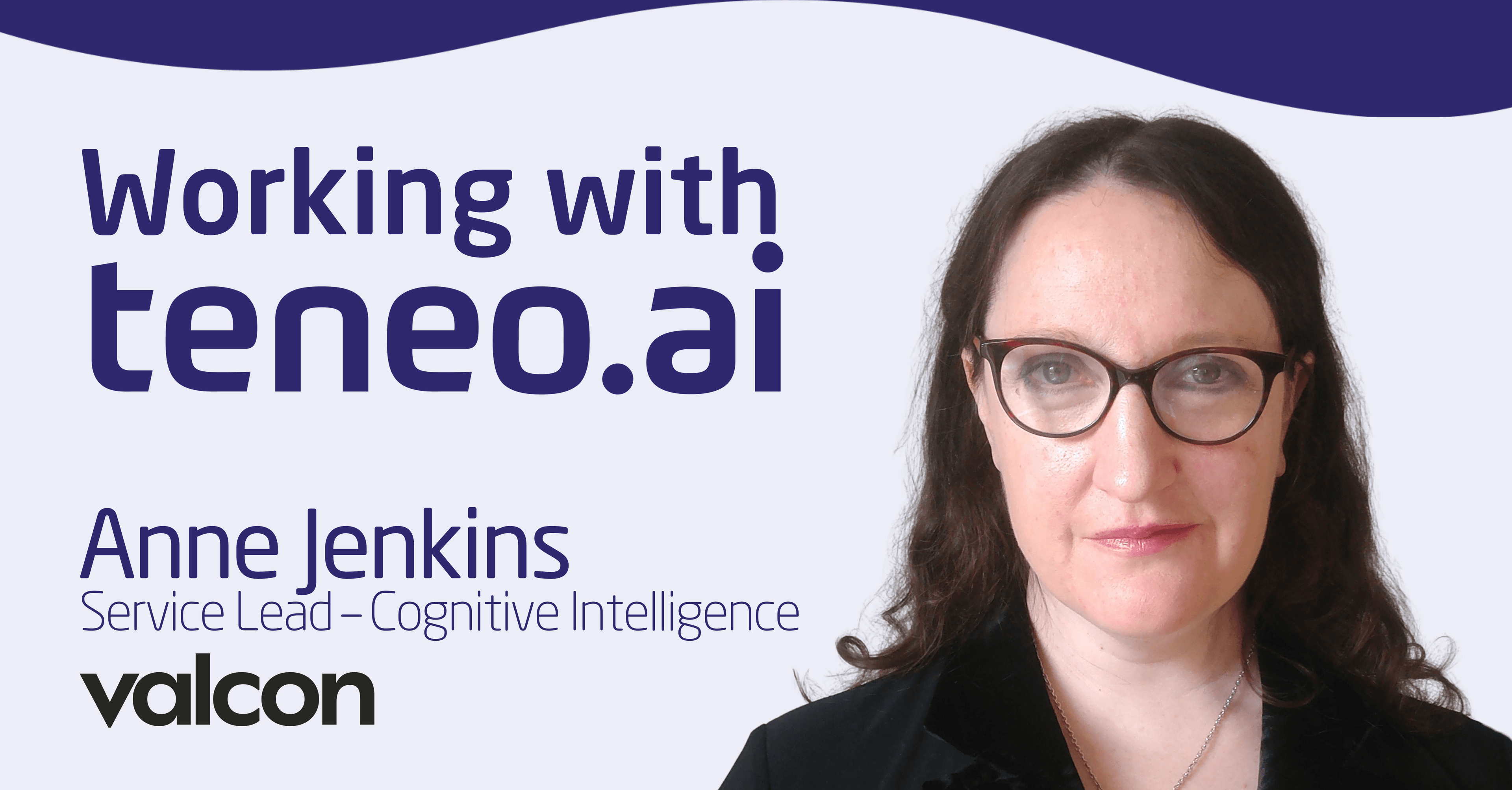 Teneo.ai works with global partners to provide significant revenue opportunities for their business as well as their own clients. Valcon, one of Europe's largest technology consultancies, is one such partner that is using Teneo to boost customer experiences for its customers around the world.
We recently sat down with Anne Jenkins, Service Lead, Cognitive Intelligence at Valcon, to get her perspective on the market, our product, and solutions.
Teneo.ai & Valcon, a True Collaborative Partnership
 "When you work with technology, one of the most important things is understanding how to work with partners and to get a positive and mutually beneficial relationship for both companies. If you have the best technology in the world but you don't work well with your partners, nobody will work with you."
"In the +20 years I have working in technology I've never met a partner, as supportive and collaborative as the people behind Teneo.
"It's genuinely been like nothing I've experienced before, in the sense that from the first moment I was evaluating the product, there was somebody standing by in case I had any questions."
"There was always someone there to answer – usually with 'and this is how you do it'; occasionally with 'actually we're going to put that in the roadmap cause it's a great idea'."
"And then, they actually do add it to the backlog. This makes it feel like a very collaborative partnership, which I've never experienced to this extent."
"I think Teneo is a product that's built by people who understand what conversational technology is and how to do it well."
"It's great when you've got a product that you love and a partner that wants to help. That's the dream. So if I don't find that again in the next 20 years, I know that at least I found one with Teneo.ai!"
Buying a Conversational Product
"One question I get asked a lot is; 'What conversational AI products should I buy?'"
"And I think this is a particularly interesting question because, unlike some technology marketplaces, conversational AI is incredibly crowded. There are lots and lots of people, all trying to be heard, all shouting about how they've got the next biggest thing, and it's hard sometimes to filter out the truth from all that noise."
"I personally spent a lot of time getting hands on with different products at the beginning because, honestly, reading between the different marketing messages, it was impossible to discern what was good and what was bad."
"For me, the thing that turned out to be the best product was from one of the few companies that weren't saying 'we have the best thing'. The product was Teneo, and their team just said to me 'here's a sandpit, have a play. Let us know if you get stuck'."
"That was quite refreshing, I'll be honest."
 Why Teneo?
"The more I tried to do with the product, the more I challenged myself to find ways to make it smarter and to make the solution more capable. The more I realised how much depth Teneo had in terms of features and the ability to do complex things, in comparison to all the other products that I had touched."
"Teneo has the ability to be extensible, to handle really nuanced, overlapping, similar sounding things. There were features in there that allowed me to do things that I couldn't find a way to do with other products, which is quite a strong statement."
"Even now, there are situations where I think 'well, I know how I do that with Teneo, but (to do it with x product) I'd basically have to go off, write a bit of code and plug in an API to be able to do that. To me, this just shows the level of maturity of Teneo and the sophistication it has reached."
"Furthermore, I think that with Teneo you can get the best of both worlds; it can be used by people who understand how to design conversations without needing to get too technical, but you can also have the developers to build and add reusable pieces that will make the conversation and the user experience so much more powerful."
To get in touch with Anne and her team to learn more about how Valcon is using Teneo.ai to boost customer experiences for their clients visit https://valcon.com/conversational-ai/.