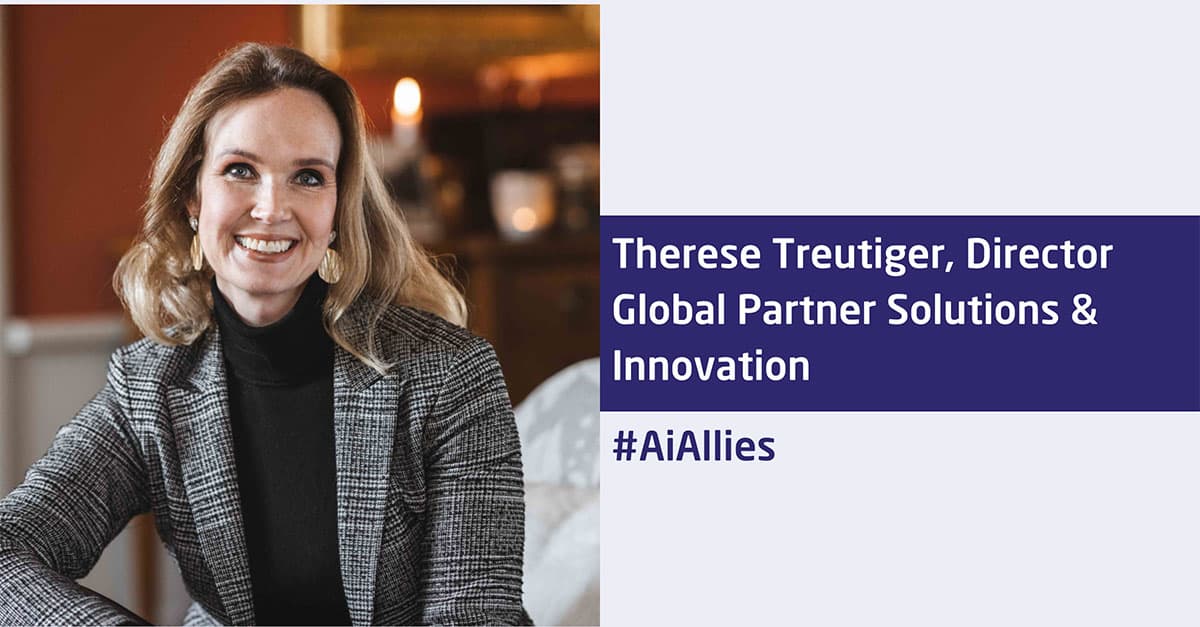 Surrounded by a family of doctors and diplomats, Therese Treutiger was never short of professional role models to take inspiration from while growing up in Sweden. However, even with encouragement to tread the well-worn paths of healthcare and international relations, her talents bloomed in the technology sector. 
Now, as Director of Global Partner Solutions & Innovation at Microsoft and as a member of the #AiAllies initiative from Teneo.ai, Therese shares her story of success. Through this, she wants to inspire women to pursue their own ambitions and forge their own pathway in the tech sector. 
The Road Less Traveled
Even though Therese holds one of the highest positions at Microsoft in Europe, the idea of working in the technology industry was quite distant during her younger years.  
"I didn't have a clue about technology or IT when I was growing up. And because of the environment I was raised in, I was given a perception that the sector had nothing to offer." She said.
Although Therese felt a natural pull towards subjects like natural sciences and mathematics, an emphasis on languages directed her education towards learning German, Italian, English, Spanish, and French.
"It was just how I was raised! The subjects that I loved the most, weren't valued by my family."  
The Start of a Tech Career
Following the completion of a degree in business administration and a masters in organizational psychology, Therese spent a short time working as a journalist before taking her first steps into the world of tech working with the largest telecommunications organization in Sweden, Telia.
"I began in the telephony research and development department, where I worked with partners such as Ericsson and some of the people who had even helped to invent the global telephony network in the 1980's. I began working in telco in the early 90's so I was really lucky to be part of the project to expand the global network."
Making use of her business acumen and educational background in business development, Therese excelled in the marketing and sales department before pushing herself to learn about the technology that was changing the world around her.
"I have the mind of an artist and I also enjoyed designing things, so when looking at how a mobile network was built and designed I saw it like a painting with different layers and components. After 6-8 years, I understood that this was my area because I could see how technology was architectural and it made complete sense to me."
"If I had received the right kind of support when I was younger, I would have been an engineer from a much younger age."
Therese enjoyed a metronomic rise in the telecommunications industry before joining Microsoft in 2015, where she now leads the company's partner strategy in Europe.
"It's been amazing to learn about the applications that technology can have for businesses and to see how technology such as AI is becoming a part of everyday life.
Leading the Change for Women in Technology
The technology sector has transformed since Therese entered the industry in the 90's, however, there is still a significant difference in representation between men and women in the workforce, which is something that Therese is working to change.
As a leading figure in the technology industry, Therese has helped to drive greater gender equality through supporting the careers of women at Microsoft, including Business Development Manager Joanna Runesson, who said:
 "Therese drives the business forward with outstanding positivity and does an incredible job of empowering her team daily. I'm lucky to be able to work with and learn from her leadership." 
The Importance of Mentorship
The importance of mentorship is clear for Therese, who highlights the impact that her own role models had on her career.
 "I've had some fantastic mentors over the years, including a Chief Commander of the Swedish Armed Forces! But I have learned just as much from trying to represent a role model. When you perceive yourself as somebody that influences others through behavior, you become much more conscious of your actions and their impact." 
 "We need to promote this mindset from an early age and get more women to act as role models, as they can then support the next generation coming through. It should be a virtuous circle of learning and then teaching." 
Attracting Young Women to the Tech Industry
The importance of educating young women about the technology sector is what will influence greater change throughout the industry, according to Therese.
"Providing more options to girls in school is really important, fortunately that's happening and hopefully we will start to see the impact of teaching code from a young age. However, we need a comprehensive infrastructure where communities are ready to welcome young women as soon as they graduate from university. This way, they can immediately access support and mentors." 
"When I was starting out in the industry and working with the public sector, a lot of people were defensive and it took them a long time to trust me because I was a woman. That can't happen anymore, which is why we still need to work to have more representation across the industry."
For any aspiring women that want to enjoy greater success in tech and for any organizations that want to improve their diversity, Therese highlights several key points.
"If you're looking to enjoy a successful career in tech, I think it's important to get close to your sales team and really get to know your product or service as well as your customers. I believe aligning well with your business goals is crucial for achieving success. I would also suggest that women should get international experience." 
Organizations Should Aim to Promote and Improve Gender Diversity 
"If you want more women in your organization and in leadership positions, you need to have women that are part of the recruitment process at every stage. It's also important to consider what more a business can do to specifically promote women from a technology perspective. Microsoft runs an annual competition called 'Tech Girl of the Year' and it's a fantastic initiative that celebrates young talent."
Finally, when assessing what the tech industry as an entire sector need to do to progress;
"Our challenge is to make technology, such as AI, as accessible as possible so that every industry can benefit. I have seen whiskey flavors designed from scratch and entire skyscrapers built with the support of AI. There isn't an industry or profession that technology couldn't support."
To learn more from Therese, you can connect with her directly here.
Access a wide range of accredited online training courses for free from Microsoft, here.
Browse the current internship programs and junior openings, here.