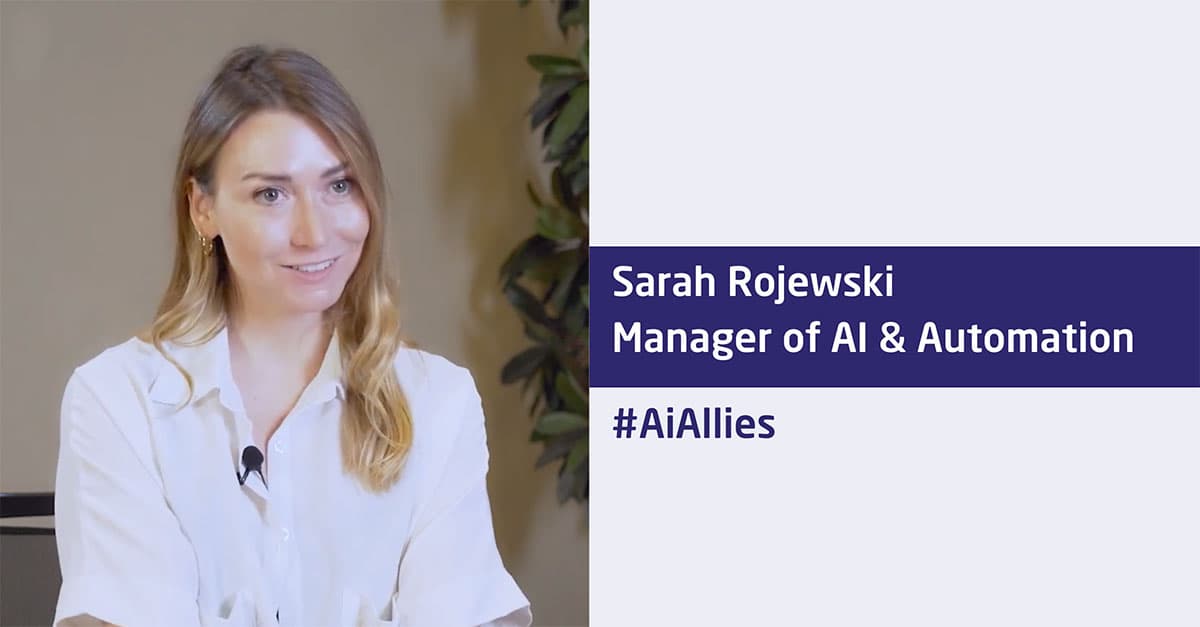 Securing a leadership role in a department of one of the world's largest telecommunication companies may seem like a feat exclusive to seasoned professionals. However, for Sarah Rojewski, the journey to becoming the Manager of AI and Automation at Telefónica Germany didn't require 30+ years of experience. Instead, her curiosity, determination, and willingness to embrace innovative technology paved the way.
As part of the #AiAllies initiative from Teneo.ai, Sarah shares her story. She provides advice for other women who may be looking for a pathway into the industry or who want to follow in her footsteps into a senior position for an industry-leading organization. 
Starting a Career in Tech
"I studied Media and Culture at university, so nothing to do with IT or technology," Sarah laughed.
"However, my primary focus was on the intercultural exchange concerning the functioning and challenges of voluntary social programs particularly in terms of digitizing their processes. I believe this focus equipped me with the right mindset about the advantages of technology and the modernization of organizations." 
Sarah even wrote her thesis on the subject and worked for a start-up while studying.
"My interest was really in the social side of the issue. I wanted to understand, why did people take on voluntary projects? Was it about feeling better about themselves? Or trying to make the world a better place? Furthermore, how can technology help to connect people who want to volunteer with the people who need help the most." 
Following the completion of her thesis and after gaining a valuable experience working for a start-up that specialized in connecting volunteers with social programs, Sarah's path was clear.  
Working at Telefónica Germany
"After seeing the impact that technology could have on helping people, I knew that I wanted to learn more about the potential it could have and to work in the industry. I applied for a student role at Telefónica and secured a six-month contract with the online department where we worked on making the company's social media channels a customer service tool."
With a 'foot in the door', Sarah spent her time working on new media opportunities and finding out how to connect new channels to support customers. She acquired priceless knowledge for enhancing customer experience and had the opportunity to engage with high-level strategy. 
"After six months, I knew Customer Experience was my passion," she said. 
"I never thought I would be so obsessed with KPIs when I was only 24 and just getting started! But after being put in charge of a large project to relaunch and rebrand one of the major digital spaces for existing customers, I was really happy and enjoyed being able to focus on achieving big goals." 
"I also realized that you don't have to have a clear plan when you're starting out in your career. Sometimes, you need to just take a risk and try something to figure out that you love it. I was very lucky that I was given so many opportunities, like when a colleague went on maternity leave and I was given the management of a large project, but you need to be in a position to make the most of something like that when it comes up." 
Over the course of the next 7 years, Sarah was provided with a range of new and exciting opportunities to explore new technologies and to drive transformation across Telefónica Germany.  
Making a Mark as A Woman in Tech 
Having contributed to various projects and consistently demonstrating an interest in innovative methods to assist digital users and customers, Sarah was offered the opportunity to transition into customer services and introduce new digital contact channels.
"I said I would take it if I could choose my own projects!"
Right off the bat, Sarah Rojewski emphasizes that Conversational AI was a priority technology to help her meet her objectives and enhance customer experiences at Telefónica Germany. You can delve deeper into this topic in Sarah's presentation during a digital conference, available here.
Even as she steadily climbed the ranks at Telefónica Germany, Sarah insists on staying humble. She acknowledges areas where her knowledge needed enhancement.
"When I embarked on this journey, I was clueless about what an API was, and I had to resort to Google for it and many other concepts. I'm not shy about admitting this, as I share this experience with many others. I devoted a significant portion of my free time to self-education, watching YouTube videos and participating in webinars. In my view, this self-learning approach is crucial for success in the tech industry." 
"I recall feeling incredibly overwhelmed, but I was certain that I needed to remain motivated and not give up. I was aware that I lacked experience, but I possessed a strong desire to learn and acquire it. This willingness is the sole reason behind my success." 
A Bright Future for Younger Generations
As a young woman forging her way through the tech industry, there have been times when Sarah Rojewski has faced challenges and key moments that required confidence and an assured stance.
"Going to conferences where I was the only women was an eye-opening experience. As a newly graduated 24-year-old with blonde hair, I was covering all of the stereotypes! Which was too much for some male colleagues. I learned that I had to work even harder to have my voice heard and to get respect."
"It took a lot of energy and I had to think about how I could be impressive, how do I dress, what is my body language saying? It sounds really basic, but I think women have to consider this a lot more than men."
As a young professional, Sarah also recognizes the differences that women had to face in the 90'´'s and early 2000's compared to now. 
"Women currently in senior roles had to assertively carve out their space in the tech industry, often needing to adopt traditionally masculine behaviors to gain recognition. They didn't have any real networking opportunities either, so it would have been incredibly difficult. But, I don't think women need to take the same approach these days and I don't think women need to act like men to get further." 
"I want to be authentic and not have to put a mask on for 8 hours and lose myself. It would be exhausting."
"I think you need to create an environment that you´re comfortable within if it doesn't exist already. I have been in a heavily male dominated industry for six years, but I have worked hard to build a space where I can thrive and where I am comfortable." 
The Impact of Leadership
For women looking for actionable advice on furthering their careers, Sarah Rojewski highlights the impact of a leadership course had on her progress.
"I went on a six week female leadership course that helped me to create a process around self-reflection. I was able to better understand my own requirements and needs within a professional environment as well as what it means to be a leader."
"It's not just about having lots of skills, it's about being able to create a space for other people to thrive and helping them to succeed. I also learned that you need to take care of yourself, because how can you look after others without self-care?" 
The Importance of Mentors
Sarah also strongly emphasizes the significance of seeking mentors, making it a point to network at every possible opportunity.
"I'm in the process of connecting with mentors and finding role models that I can learn from. It's about finding someone who has gone through the same thing and knows how to navigate progression."
"I think everybody should try to do the same. Being on LinkedIn keeps you connected, and it is a great platform for finding great professionals to learn from." 
If you would like to connect with Sarah Rojewski, you can find her on LinkedIn, here.