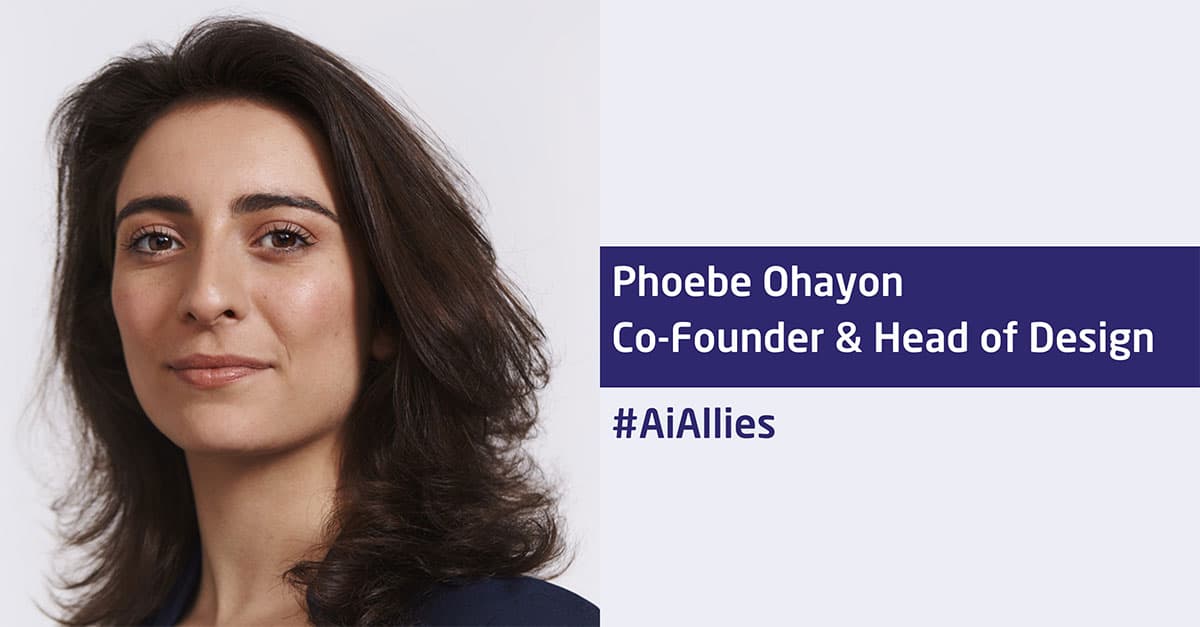 As the Head of Design Voice Branding and co-founder of Whoozy Agency, Phoebe Ohayon understands the power of a compelling voice. Her agency specializes in creating human-like synthetic voices for globally recognized brands, ranging from startups to Fortune 200 companies.
In her role with the #AiAllies initiative from Teneo.ai, Phoebe offers a glimpse into her team's innovative design work. Simultaneously, she shares valuable advice for women aspiring to succeed in the Conversational AI (CAI) sector.
Surrounded by Sound
"I was lucky to have access to technology growing up," Phoebe said.
"I think the Dutch are generally quite tech-savvy. That had an impact on me as I developed a strong interest in gadgets and software growing up: This led me to study audio engineering at university."
But despite her single-minded approach to becoming a specialist in the audio field, Phoebe had challenges to deal with during her studies.
"I was the only woman on the course. Consequently, some classmates thought it was okay to comment about my body in front of me. The attitude of some of the lecturers was that boys were just being boys and it was normal."
Finding Your Tribe
For women navigating male-dominated fields of study, she advises, "Establish alliances in each class and rely on them for support when necessary. This strategy empowers you to handle negative comments confidently, knowing someone will stand up for you if needed."
She further emphasizes the importance of setting firm boundaries. "Sometimes, people lack social awareness and need guidance on what's appropriate. If there's a lecturer you trust, share your experiences with them and enlist them as an ally.
Setting Up a Voice Brand Agency
After completing her studies, Phoebe worked in various prestigious studios in London, and within a couple of years, she set up a voice branding agency.
"I have been extremely lucky to have a co-founder who fully understands when I need support, like when I'm not being taken seriously. But, sharing the same vision has also been incredibly important. We both wanted to start a business and do something totally different to the other studios, which has meant taking a highly data-driven and research-based approach to developing brand voices."
"I work on all of the design and branding efforts and lead the team with a highly data-driven methodology. But, you have to be like an octopus to run a company! So, I'm involved in almost everything regarding the business – a major challenge but hugely rewarding."
Talking Opportunities for Women in Tech
Conversational AI is a rapidly developing technology and is an industry estimated to expand significantly over the next five years and beyond.
A recent market report from Gartner stated:
"Conversational AI is a potentially transformative technology that offers a compelling ROI, while simultaneously improving customer experience. Conversational AI will reduce contact center agent labor costs by $80 billion in 2026, increasing to $240 billion by 2031"
"In 2031, conversational AI virtual assistants will handle 30% of interactions that would have otherwise been handled by a human agent, up from 2% in 2022."
There is a growing number of opportunities for women in the CAI sector, and Phoebe has no doubt that the future is bright for those that operate in the field.
"It's exciting to be a part of this niche space in AI. I work with people who have backgrounds in design and branding. They are extremely creative and provide great value helping me design brand voices for our customers. They have a flair for communication and creating connections."
"We'll soon be in a place where it's almost impossible to distinguish a human voice from a synthetic one. That is really exciting from a business perspective, but we need to develop guidelines quickly because it could easily be used in a negative way."
The Future of AI
However, having pioneered within the sector for a number of years, Phoebe believes that the positives far outweigh the negatives, despite the suggestions that the technology could be used by organizations with negative ulterior motives.
"The potential of the technology is huge, and making automated interactions much more accessible and enjoyable will improve the user experience of many products and services."
"From a business perspective, we see "success" in the field of automation and optimization using synthetic voices. Whether this is for a digital assistant, the introduction of a digital employee, content creation, multimodal interfaces, synthetic media, gaming, etc. There are many opportunities across various industries that benefit from this technology''.
Improving Accessibility
Finally, on what women and the tech sector at large can do to improve accessibility to opportunities in the industry, Phoebe said:
"Women that are interested in learning more about the industry and working on conversational AI projects should use online networks like Women in Voice to learn about the opportunities in CAI."
"I believe it's beneficial for companies to host women-only events. This provides a unique space for female colleagues to connect and support each other outside the office environment. Implementing this concept in educational settings can also help young women appreciate the power of community early on. Most importantly, we should encourage girls to explore subjects like physics and tech. By introducing more role models from STEM fields into schools, we can inspire the next generation of female innovators."
If you would like to connect with Phoebe Ohayon directly, you can find her on LinkedIn, here.