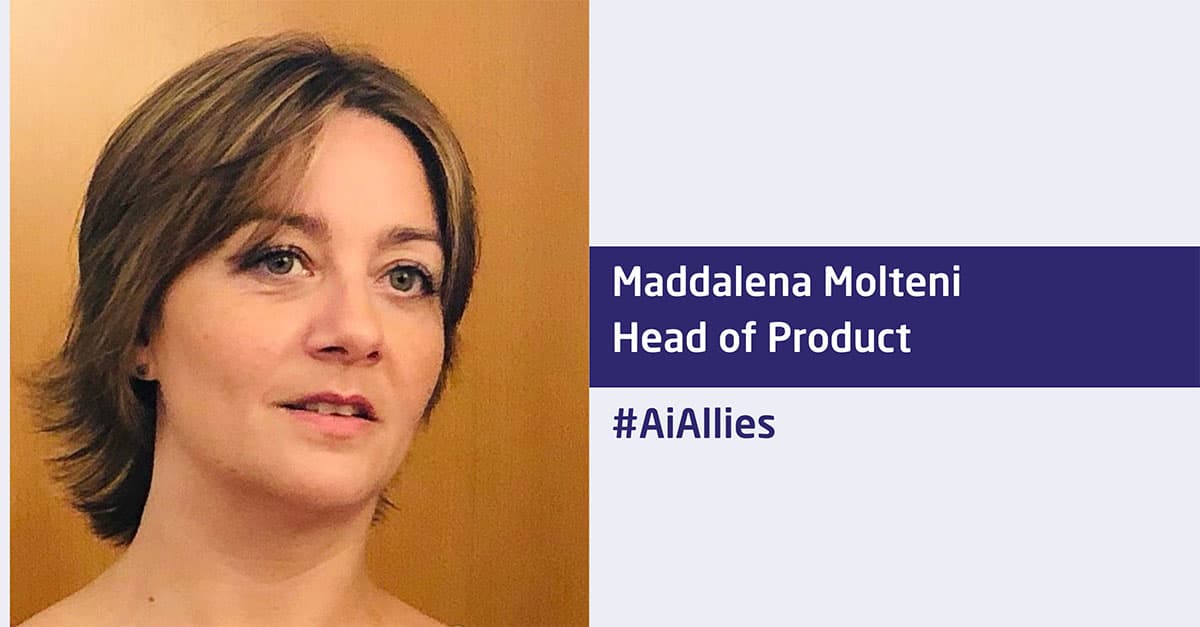 As the Head of Product for Teneo.ai, Maddalena Molteni (Madda) holds a key position with the tech company. She has had a major influence on the success of the business over the span of a 17-year career. Furthermore, like many of the women in the Ai Allies series, her original background was not one typically associated with technology.
"I come from a linguistic background and actually wanted to be an interpreter or a translator as a younger person. Linguistics is my passion, in all its facets. It's what allowed me to discover machine translation, computational linguistics, NLP and Conversational AI.
"When I was looking for jobs I was lucky to find Teneo.ai. It has been the perfect fit. This role allowed me to combine my interests with my skills as a linguist by working initially as a Conversational Designer.
Teneo.ai was one of the very first technology businesses to innovate in the Conversational AI sector. Madda has been a major part of the development of the business and the tech it produces.
"I'm really proud to have been able to start as a user of what has now become Teneo. My team is responsible for developing Teneo. We started out building bots and that was a lot of fun, as it was a real niche back then. Now it's a global industry and we're right at the forefront of the space."
"I really love the intersection between machine and human interaction, it's the perfect combination of language and technology which I am most interested in."
Madda now leads a team of Developers and Conversational Design specialists, who work to improve and innovate Teneo.ai.
Advice, Learnings and Overcoming Challenges
Technology companies have traditionally employed more men, however, Teneo.ai has always maintained a healthy balance, according to Madda.A reason for this attributed to the fact that that more women study linguistic subjects at university and can enter the Conversational AI space as a result.
"It might not be the same in other companies, but we've always had a lot of women throughout our teams. A huge number of women study linguistics and so, a career in the CAI space is a great route of entry."
"Again, there is a real niche for women to explore on the computational linguistic side, and I would definitely recommend it as an area you can be successful in from the tech sector perspective."
Education represents the starting point for any career. The focus in every level of education is evolving as more and more focus is put on technology-based skills. By preparing the next generation for an even more tech-centric world, women will have opportunities to get into the industry.
"My 10 year old daughter is studying robotics after school! Likewise, there are a lot more opportunities for young people to learn the skills that they'll need in a technology environment. There are a lot of online resources, and the industry is getting better at making education accessible via those channels."
Though the future may be brighter for women in tech, one of the most important challenges that remains is the lack of seniority given across the industry.
"I think that a lot of women have been able to benefit from coming into the industry. However, I think there is still a big barrier for women who want to secure senior roles. That requires another mindset change across the industry."
Leading a Balanced Team
In her role of Head of Product, Madda manages a variety of people from a diverse mix of background. Her focus on being multidimensional is a clear objective within her team.
"It is so important to have people in your team who have versatile skills and can work on different projects. Within an R&D team, there are so many different types of roles that both women and men can take. In my experience, women enjoy positions where they can apply multiple skills and work on a wide range of projects. Having a great work environment is key to retaining talent, and mixed teams are more efficient but also more close-knit."
"Implement a team culture where everyone is welcomed and encouraged to participate in various stages of the development process. You'll find a more contented and efficient team. Aiming for a specific gender percentage isn't the answer. It's not about having an equal gender split in every role. We need to ensure a harmonious, diverse team with a significant female presence. A software development team demands a myriad of roles and skills that extend beyond mere coding."
For Madda, it's clear what the industry needs to do more of in order to help and support more women in the sector.
"I think we all need to do a better job of explaining the variety of roles that women can train for and enjoy successful careers within. Even tough I love my job and I am so grateful for everything that I have been able to achieve in this role, I might not have discovered this career path unless I had stumbled into Teneo.ai."
"I think that a lot more women would be in this sector if they knew about the different roles available. Hence, I would greatly encourage anyone who is thinking of learning more about this space, to get in touch with Teneo.ai."