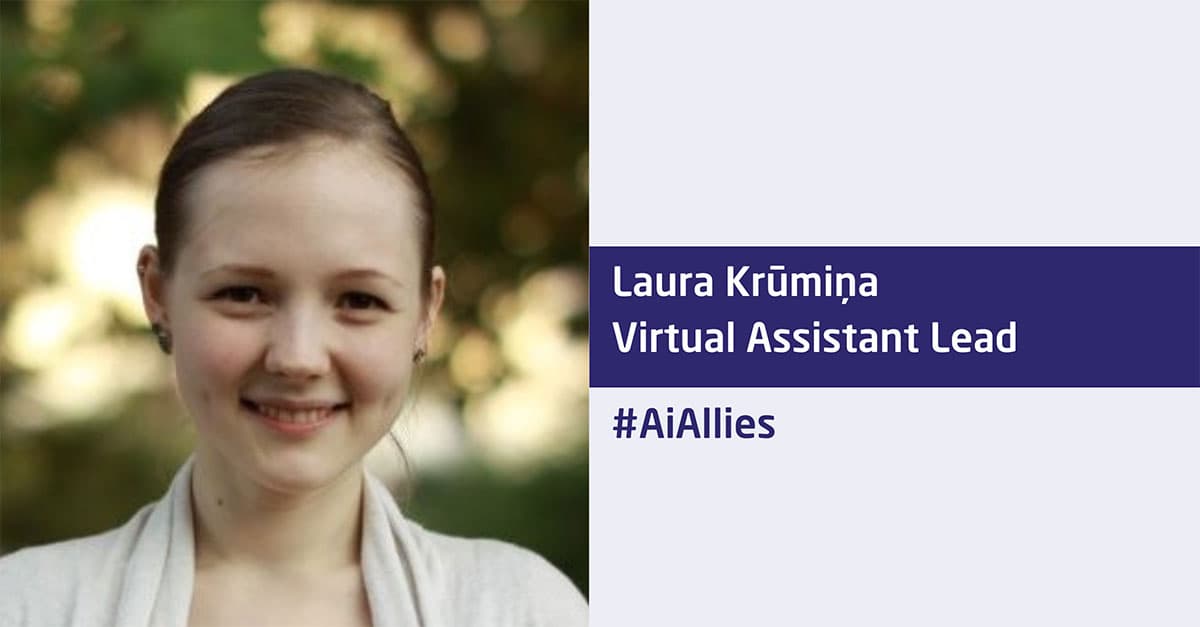 Like many leading figures in the conversational AI (CAI) field, Laura Krūmiņa knew nothing of the industry during her time in education and in the early stages of her career. But now, as the Virtual Assistant Development Lead for Circle K Europe, Laura manages one of the largest implementations on the continent. Furthermore, she is driving radical change across her organization.  
The #AiAllies initiative from Teneo.ai features the journeys and insights of leading women from across the international STEM sectors. Today we interview Laura as she joins our initiative. She explains how her background in linguistics helped her to reach a senior position for a leading organization in the CAI space. 
Talking Technology
"I started out studying cultural relations and the Scandinavian languages. So nothing to do with technology." Said Laura.  
But in her first "serious" job role, exposure to the inner workings of a technology firm sparked an interest in the potential of automation. Likewise, she got interested on how technology could help to make jobs faster and easier to manage.
"I was helping to moderate content on a social media platform, as many others do when they're just starting out, and I quickly realized that a lot of the tasks could be automated and the job made easier, so that was the first spark I think!"
The realization made an impact and influenced Laura's attitude and focus when it came to working on business operations.
"I spent a time working in 'real IT' on a service desk for a while after the moderation job with the social media company. During all of that time, it became clear that I was much more comfortable and happy working on tasks involving analytics." 
Joining Circle K
"But, AI wasn't even on the map when I joined Circle K: Therefore, the best fit was a customer service position in a Scandinavian language. It appealed to me because I wanted to practice and maintain my verbal skills." 
And as demonstrated in her previous roles, Laura quickly stated asking questions. She wanted to understand how the business was run and why certain decisions were made in relation to customer service.  
"I think this is an important strategy to use if you want to move from a junior role to a more senior one. I questioned everything and learned a lot about the business and tried to voice the issues that I saw."
"For women in particular, I think it's harder to make those suggestions because they may feel their male colleagues are louder. You have to be headstrong and clear in your message. It might mean interrupting people but that it is necessary sometimes." 
Laura's direct and confident approach provided her with an opportunity to consult the automation team. She also had the chance to support customer service operations and customer experience improvements. This eventually led to working on a major conversational AI (CAI) project that would transform the company's digital strategy.  
Conversational Artificial Intelligence
"I got the chance to work on the CAI project because I was proactive and asked a lot of questions! It's not like I had any background in data analytics or mathematics. A lot of conversational AI is about using soft skill such as communication and language as you need to train machines to behave and respond in a human-like way."
Now, as the Virtual Assistant Development Lead, Laura heads a department that is constantly driving innovation and developing better ways to serve Circle K customers.
"Our team is made up of people with soft skills. We're convinced that you need these skills to work in CAI. Five people in the team have come from a customer service background, which shows how automation isn't all about killing jobs its about transforming them." 
Supporting Women in the World of Tech 
Laura has enjoyed a rapid rise through the ranks of Circle K over a five year period. She now holds a senior position in the technology development. Despite this, her pathway hasn't been clear of obstacles. 
"Challenges can arise every day. I often have to maintain a strong voice in order to be heard, despite holding a senior position." 
"But, for a lot of people and women in particular that can be difficult. Therefore, you need to be able to find small situations and practice speaking up and finding strength in your convictions. That is the only way that you will be able to speak up when it really matters and you feel your opinion needs to be expressed." 
Resources for Women in Tech
As for resources that can help women to develop their skills, Laura recommends Coursera. "It gives you the opportunity to learn about a particular subject and understand if you like the topic. LinkedIn Courses also can offer a lot of support. Maybe your own company may be happy to pay for a subscription if you show you want to learn and improve in your job." 
A number of online networks are also highlighted by Laura as having had a positive impact on her career development.
"Women in Tech and Women in Voice also share resources via their social media channels that are freely available. Make sure to look up local groups or networks that operate in your industry." 
Companies Need to Do More
Laura has suggestions for organizations looking to improve their own gender balance and aiming to create better professional environments for women. "Every business should arrange some kind of regular forum for women to voice their concerns or opinions. It's a great opportunity for a company to understand more about problems it may not be aware of." 
"I have been very lucky at Circle K though. I have received incredible support from senior managers and from the entire organization. We also have our own internal diversity and inclusion working group across the entire international group. They work to pinpoint issues and create directives to improve diversity." 
If you would like to connect with Laura on LinkedIn, connect here.