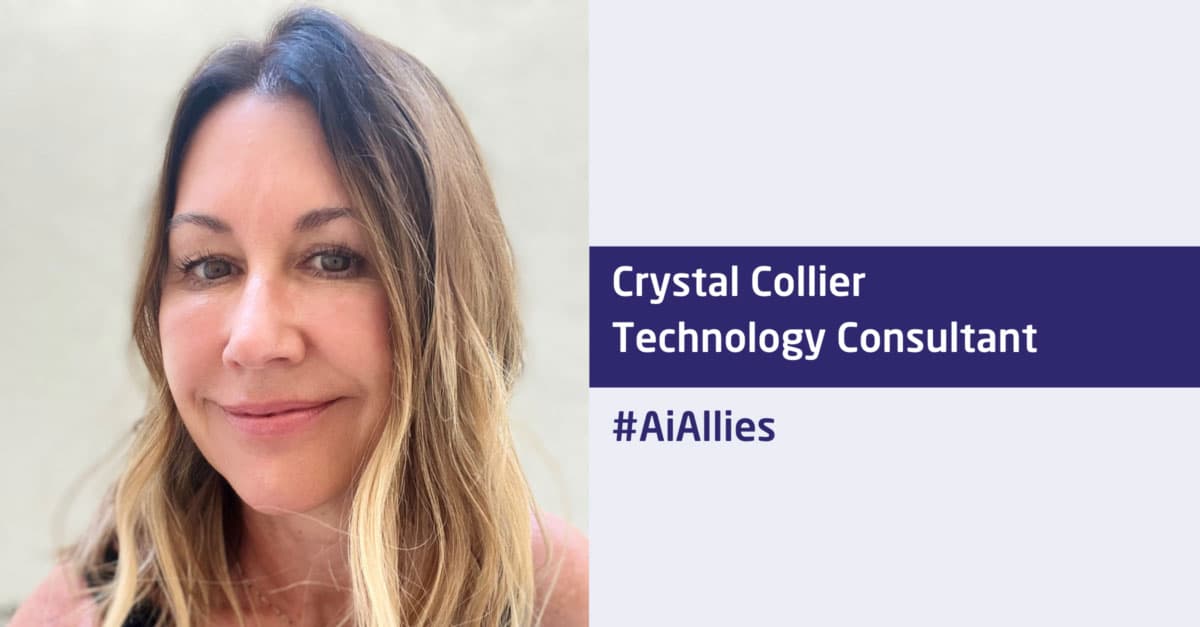 Crystal Collier has a history of challenging herself in diverse roles. She's excelled across the STEM industries. Her work ranges from nuclear disarmament in the US to managing millions of interactions with online players. These players are part of some of the most popular video game franchises ever created. Crystal has worked across public and private sectors at the highest level. Her experience spans over 25 years.
Crystal is part of the #AiAllies initiative. She shares her story with the aim of inspiring more women to pursue opportunities. These opportunities are emerging throughout the global STEM fields. Additionally, her insights offer practical advice. This advice is for organizations striving to become more inclusive, diverse, and equal.
From Shakespeare to Subatomic Science
Like other industry leaders to have shared stories as part of the AiAllies series, Crystal didn't take a conventional route into the technology sector.
"I have a bachelors and a masters in English", she laughed.
"When I was a student, my goal was to be a college professor and develop a career in academia, which I really loved at the time, but I accidentally started making money outside of that world and thought ´this is awesome!´, and that only happened because I was working in a freelance capacity while I was waiting to begin work on my PHD."
"I was working as an editor for the Department of Energy in the US, on a project focused on the reconfiguration of the nation's nuclear weapons complex. It was post Cold War and we had to figure out what we were going to do with all of these nukes! What were we going to do with all of this waste? And what were we going to do with the nuclear weapons manufacturing plants?"
Crystal engaged in reading and editing content. This content focused on highly technical and technologically advanced systems. Through this process, she learned about the impact that technology could have on large-scale projects.
"Our work made it safer to handle nuclear weapons and allowed us to support operations in a more environmentally, economically and socioeconomically sound way. I looked at the technology that was used and thought it could have various applications for helping businesses as well as creating a better future."
Crystal saw the influence tech could exert across a government and its numerous organizations. Following this, she transitioned into the private sector. There, she collaborated with some of the world's largest and most renowned businesses.
Telcos & Gaming Companies
"I worked for AOL right at the inception point of the internet, so I was able to support major digital transformation in the early days of the digital world. Seeing how much of an impact the internet had on the lives of normal people convinced me that I needed to work in this space in order to have a career that was fulfilling, rewarding and progressive."
After six productive years with AOL, Crystal moved into consulting and helped to create relationships between customers and businesses through the implementation of technology for a range of organizations, eventually leading her to a position as the Head of Strategy, Programs and Insights with Electronic Arts (EA) and her first real interactions with Artificial Intelligence.
"It was incredible to see how users could be supported with technology and AI systems. I worked on the FIFA, Madden and Star Wars games, which were incredibly popular, so you can imagine how many online users we needed to support. AI systems helped us to do that."
After a number of years working across the EA ecosystem, Crystal moved back into consulting and has been operating across the tech sector, working on some of the largest digital transformation projects in the industry ever since.
So, it would be fair to say that Crystal is well placed to share advice and insights on how to be successful as a woman in the technology sector.
"I honestly believe that anyone who wants to learn about technology and how it is built can enjoy a long a successful career in the industry. My father taught me that I could achieve whatever I wanted if I worked hard and that has served me well so far!"
Changing the Game for Women in Tech
Crystal has spent 25 years in the technology industry. It's a space traditionally dominated by men. Along the way, she's gleaned valuable lessons for navigating the sector and sustaining success.
"The most important message I'd share is not to fear working in tech," she advises. "Even if you don't have a background in math, science, or any kind of engineering, it really doesn't matter. You can concentrate on solving problems for businesses. The process of learning how technology can do that is both interesting and fun!"
Crystal also emphasizes that honing communication skills can significantly influence a woman's career.
"Just being a good writer and a good listener is critical because that will allow you to find out what problems a business has by talking to everybody involved. From senior management to the end customer and all of the employees. You don't have to know how to code to communicate with people, though that is a kind of code in itself."
The importance of maintaining links to universities and developing networks is also a key point, as Crystal has worked hard to stay in touch with her own alumni and build new connections across the tech sector.
"I think graduates should work to stay in touch with professors and tap into the resources that their educational organizations have to offer. You might be surprised to learn how much a college / university could support your growth after you leave."
"Virginia Tech has a lot of amazing networking groups and resources for women to access, such as Women in STEM, which I would highly recommend."
Finding Other Inspiring Women and Mentors
Gwynne Shotwell, the CEO of SpaceX, serves as an inspiration to Crystal, highlighting her ability to work with Elon Musk and to push the boundaries of human endeavor.
"She's someone worth following and learning from," Crystal says. "She communicates exceptionally well and maintains close ties with the media. If you aspire to become a master communicator, she's a fantastic example." She adds, "Virginia Tech offers numerous remarkable networking groups and resources for women, such as Women in STEM. I highly recommend it."
Crystal places a strong emphasis on finding personal mentors and inspirational figures. She makes a point to acknowledge the support she's received throughout her career.
"Having someone to turn to when making career decisions is so important," she notes. "No one achieves significant success without the support of others."
For women specifically, Crystal underscores the importance of self-belief and setting expectations.
"Women should be encouraged to ask for what they want and to set their own expectations," she advises. "Confidence is a key factor in success. So, learning to harness it is particularly important for women. I believe it comes a bit more naturally for men."
Changes Still Needed Within the Industry
Finally, she discusses the changes required in the technology sector. These changes aim to create a more balanced and equal environment.
"I think the big tech companies can do a lot more. If they got together and formed a program as a group, that would be so powerful. They could just take five women each year, and heavily invest in their success. Five people to Meta is nothing!"

"Companies also need to have much better training for their own employees. There is too much emphasis on what people have done in the past instead of focusing on how much passion they have and willingness to learn for a role."
If you would like to connect with Crystal Collier, you can follow her on LinkedIn, here.