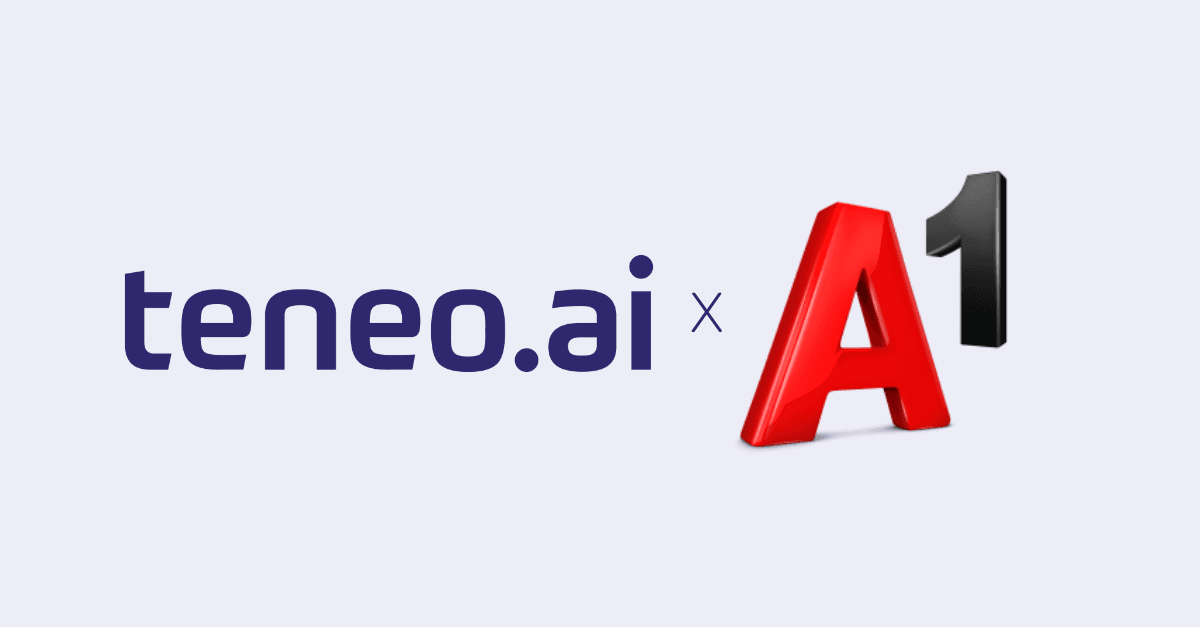 Telecommunications services and ICT solutions provider A1 Bulgaria has gone live with 'AVA', a self-service digital agent to drive a better customer experience and to reduce costs, based on Artificial Solutions® Teneo.
A1 Bulgaria is part of A1 Group, a leading provider of digital services and communications solutions in Central and Eastern Europe with around 27 million customers, currently operating in seven countries: Austria, Bulgaria, Croatia, Belarus, Slovenia, the Republic of North Macedonia, and the Republic of Serbia.
AVA understands and responds to open questions from customers, typically within three seconds, allowing A1's customer to check the status of their plan, troubleshoot basic network problems, or source the answers to simple questions, among other self-serve options.
Communicating fluently in Bulgarian, AVA is the first digital agent to be implemented by A1 Bulgaria's customer services function, with more planned for launch in 2023.
Borislav Simeonov, Senior Director, Information Technology and Digital Transformation at A1 Bulgaria, said: "At A1, we pride ourselves on the customer experience we offer. The introduction of AVA allows us to provide our customers with a fast, friendly, and intuitive way of addressing most of the questions they might have. As AVA's capabilities continue to expand, and as we continue to deploy more applications, there's no doubt the importance of Artificial Solutions' Teneo platform in the digital transformation of A1 Bulgaria's customer experience."
Augustin Etman, Customer Success Manager at Artificial Solutions, added: "AVA's capabilities are central to delivering a seamless, speedy and, ultimately, superior experience for A1 Bulgaria's customers. And it's only the beginning. We look forward to expanding those capabilities further with a range of additional conversational AI capabilities that will interact with customers in Bulgaria".
– ENDS –
About A1 Bulgaria
A1, part of A1 Group, is a leading provider of digital services and telecommunications solutions in Bulgaria. The company provides mobile and fixed services, high-speed internet, interactive, digital and satellite television, including four own-brand sport TV channels – MAX Sport – payment services, ICT, cloud and IoT solutions to 4.8 million clients. In 2021, A1 Bulgaria reported EUR 574.1 million revenue, and the comparable EBITDA was EUR 218.3 million.
A1 Group is a leading telecommunications provider in Central and Eastern Europe with over 27 million customers. A1 Group operates in seven countries: Austria, Bulgaria, Belarus, Croatia, Slovenia, Serbia, and North Macedonia. The revenue of A1 Group for 2021 was EUR 4.75 billion. A1 Group's portfolio includes voice telephony, high-speed internet, and multimedia services, as well as solutions in the field of ICT, IoT, data transfer, and online payments. The group has a stable shareholder in América Móvil – one of the largest providers of telecommunications services in the world.
About Artificial Solutions
Our vision is a world without queues, without keypad navigation, with instant service. We're proud to transform the customer experience for hundreds of millions of consumers around the world, powering millions of interactions every day across our enterprise client base.
Our customers replace traditional phone keypad-based menus with welcoming, short, and precise full sentences – OpenQuestion. The solution is based on our award-winning SaaS-platform Teneo. Which runs across 86 languages and dialects and is fully integrated with call center and contact center systems. Teneo.ai, Teneo and OpenQuestion are registered brands by Artificial Solutions.
For more information, please visit www.artificial-solutions.com